Pause Dream Enjoy Ch# 39: Faces... HERE
MFPS Sept Stamp Release Blog Hop... HERE
Question:
Do you SMILE often?
Ch #39: FACES
Create any type of project
(drawn faces, stamped faces, etc.)
Our Sponsor this challenge is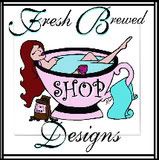 Prize is 3 digi images of the winner's choice!
Fresh Brewed Designs STORE...
here
Fresh Brewed Designs CHALLENGES...
here
Fresh Brewed Designs FACEBOOK PAGE...
here
Fresh Brewed Designs FANS - SHOW US YOUR CREATIONS....
here
For all of the challenges at Pause Dream Enjoy Challenges this year, I'm making Elegant Edges tags and then putting them all together with a binding ring for a mini book. I always answer the question each week on the back of the tag after decorating the front with the assigned theme. At the end of the year, I'll have a 52 page mini book!
Here's my tag for this week's challenge:
Project #400 of this year
MFPS September #5
ELEGANT EDGES "Swirl 2" p. 39 cut @ 4 1/2 with Oblong & Shadow features

CREATE A CRITTER Crab p. 40 cut @ 1 1/2" with Shadow feature

CREATE A CRITTER Sand Castle p. 40 cut @ 3"

PEACHY KEEN PK 754 Critter Faces Set A Medium

Dew Drops from TSQ's Royal Castle Shoppe
MARK'S FINEST PAPERS & STAMPS "Oh, Crab" stamp set for sentiment
Play along with us and show us a project with FACES!
Entered into these challenges: